I love recreating Ken Block's Ford Fiesta liveries. There is always a lot of detail going on and plenty of challenge for the digital artist. When, after hours and hours of work, you have a complete Ken Block car staring at you from your computer screen, it is a much more rewarding feeling than if you had just completed some old, conventional livery.
So, following the success of my Volkswagen Polo WRC template and livery, the goal is to create a picture that will be better than the VW:

I must say that I'm slightly disappointed at Ken Block's latest livery. The outer space theme is cool, for sure, but it just doesn't stand out as much as some of his older designs. The colors are a bit dark for my taste; those who know me know that I love bright, outrageous colors. Of course, dark colors belong to a Ken Block livery, but I prefer it when there's some white to balance it out. This one, which I recreated years ago, was pretty cool…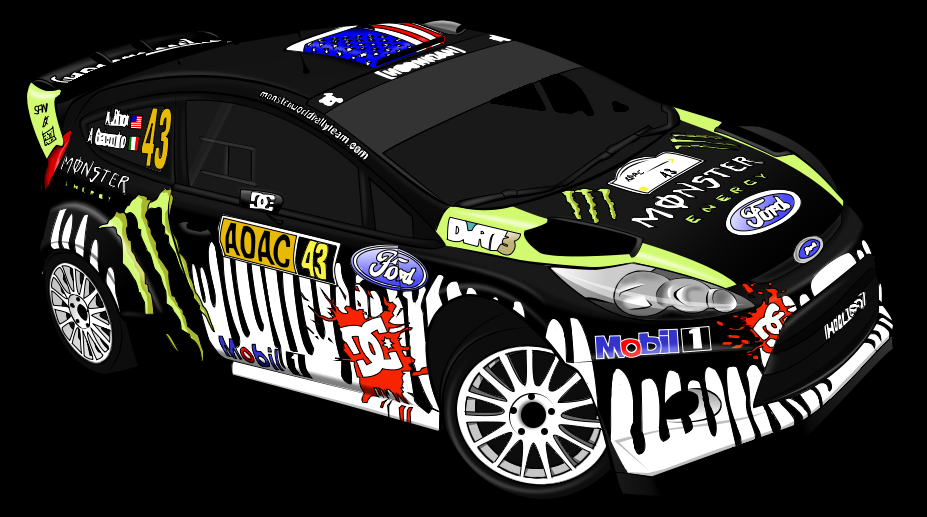 …but this one was easily my favourite – to look at, and to recreate! I've advanced in terms of skills since those days but I still think this one looks pretty nice, even today:

Every project has a humble start. Below, you can see the first work-in-progress image of my current project: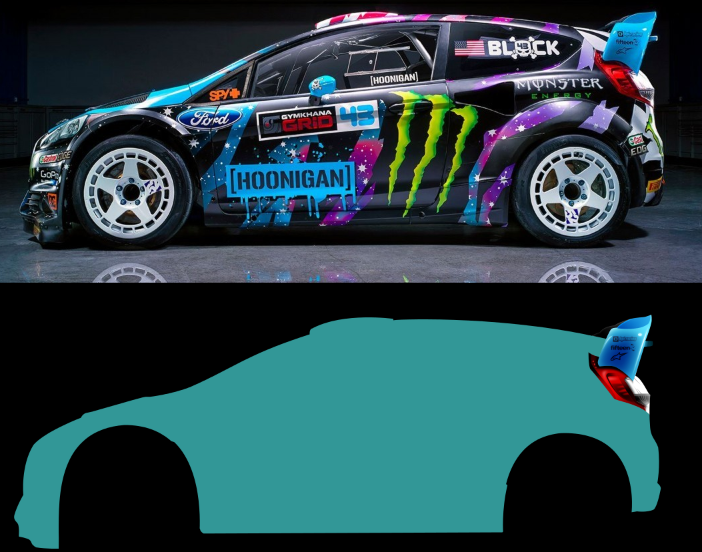 It's a good start to the project, so far. The rear wing is a bit shinier in my version than the real thing, but that's the way I like it. The rear light is very good by my standards; I will not lie to you; making lights – and rear lights in particular – is my achilles' heel. I do not enjoy making them. Perhaps that's why I started from the rear part of the car.
Basically, this will not be a paintable template (sorry guys) – it's just going to be a picture of Ken Block's '15 car. It's a very small image; the full size version is a little under 1,000px wide. One reason for that is that when I started with this project, I intended the car to be a part of a bigger, wallpaper-size image. I have a vision of the car sitting on the surface of the moon, with stars and the Earth in the background – perhaps a spaceship and some aliens, or spacemen, as well. It's another question whether I can actually make that happen; making backgrounds is something I'm not good at. I can draw them with pencil, yes, but with computer it's a whole different world. Nevertheless, I'll give it a go.
Another cool idea I had was to make a pencil drawing of the car from a front-side view, scan it, and then color it up and place it in the same picture with the side-view car (an idea that I got from Quik3D). We'll see; there's a good chance that I'll just make the car, slap in the IMG logos and be done with it.
Till next time! 🙂