Ηello everyone.
I ve always been a motorsport fan. For a small period i even had my own kart.
My second love was photography. And then photoshop.
I really love liverys. However i dont really have a techique. I only know basic things in photoshop
(crop car body ->white layer->black layer->attach new layer in between)
Dont have a portofolio or something. I ve created a instagram account and just post things there.
My last post was about Renault F1 2019 livery and a retro livery from Renault Rally times.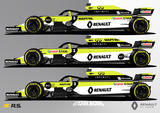 Hope to find more here on how to create templates for example..Any help appreciated!
Nikos X.